About JATL
JATL President's Greeting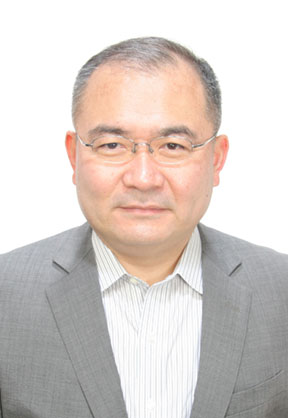 The rapid increase in CO2 emissions as a repercussion of significant energy consumption has accelerated global warming and led to the emergence of a variety of issues. As a result, initiatives have been launched worldwide to address and prevent these issues from emanating. Japan has set a very rigorous numerical goal of reducing emissions of substances which cause global warming, mainly CO2 emissions, by 80% before the year 2050.
It is within this context that the performance of Japan's refrigeration and air-conditioning systems has promptly improved so that, today, these equipment perform at the highest levels in the world. On the other hand, it is usual that several equipment are used even in ordinary households, and a lot of energy is consuming.
To address this situation, there have been calls for the realization of even greater energy savings with these equipment.
In order to realize energy saving, first it is required to accurately grasp the performance of each equipment, disclose correct information to users, and utilize it in developing even better technologies.
The Japan Air Conditioning and Refrigeration Testing Laboratory (JATL) was first established as Testing Laboratory of Japan Refrigeration and Air Conditioning Industry Association (JRAIA)in 1978. In 2011, the testing laboratory was split off into an entity independent of the JRAIA, JATL has continued evaluating the performance of equipment as a third-party institute assuming a fair and impartial stance, and has expanded the range of equipment covered to include Residential Heat Pump Water Heaters.
JATL uses our cutting-edge testing facilities, which provide us with the capability to evaluate the performance of equipment with world-class precision. To sustain our capability to continuously evaluate equipment with this high level of precision, we strive to thoroughly maintain and inspect our testing apparatuses as well as provide superior personnel training.
Going forward, even more precise measurement of equipment performance is required at testing laboratories not only in Japan but around the world. At JATL, we are making every effort to educate and train testing technicians from around the world by actively cooperating to provide not only classroom education, but training on actual equipment for laboratory technicians from anywhere in the world.
Kiyoshi Saito
JATL President
JATL's History
Air conditioning as well as freezing and refrigeration equipment are widely used in residential, commercial and industrial sectors, and they are essential as a cornerstone supporting social activities and our daily lives. Moreover, the residential and commercial sectors utilizing these equipment and systems account for a very large percentage of energy consumed.
Therefore, it is very important for society to properly assess the performance of these equipment as well as their energy efficiency. Since the establishment of the former Japan Refrigeration and Air Conditioning Industry Association (JRAIA) Testing Laboratory (currently JATL) in 1978, we have been evaluating the performance of air-conditioners and refrigeration equipment for more than 30 years.
Today, the world discusses initiatives to mitigate global warming, and this effort has also spurned changes in our social environment and greater awareness among ordinary consumers about the environmental friendliness of air-conditioning and refrigeration equipment as well as evaluating the performance of these equipment. It is within this context that JATL was established as an independent third-party organization for the purposes of offering appropriate information on product performance and contributing to development of the whole industry of Japan and to improvement of people's lives.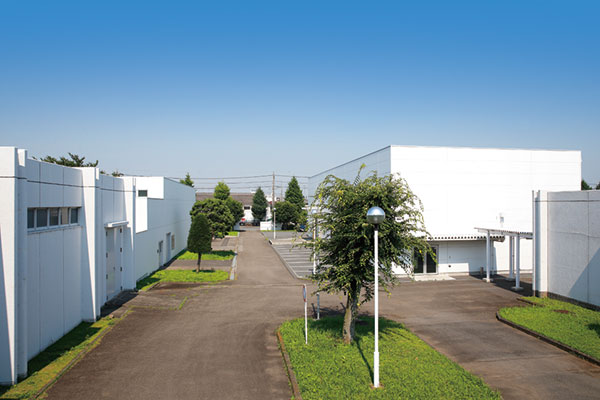 JATL Logo
JATL's logo has the following significance.

Color scheme highlighting "air conditioning & refrigeration"
The JATL logo combines the colors "dark blue" symbolizing fairness, reliability and transparency with "azure" representing the sky, sea, water and wind.
The logo showing these shades of blue directly invokes an association with JATL's name which includes the terms "air-conditioning and refrigeration."
Center arc symbolizing "momentum & astuteness"
The sweeping arc extending out from the center to both ends of the four letters J, A, T and L symbolizes JATL's momentum and astuteness. At the same time, this arc signifies the horizon of our blue earth, particularly JATL's mission to contribute environmentally to the establishment of permanent world peace and conduct our activities globally wherever needed around the world.
History
August 1978
JRAIA Testing Laboratory established
December 1978
Room air conditioner testing facilities completed
October 1980
・Room air conditioner certification program started
・Packaged air conditioner/heat pump testing facilities completed
October 1983
Packaged air conditioner/heat pump certification program started
October 1985
Room air conditioner/heat pump testing facilities completed
December 1991
Room air conditioner/heat pump low temperature heating capacity testing facilities completed
November 1993
a air conditioner/heat pump low temperature heating capacity testing facilities completed
January 2004
Reorganized and split into Testing Laboratory and Certification Dept.
October 2004
Certificated to ISO/IEC 17025
April 2010
Packaged air conditioner/heat pump new testing facilities completed
February 2011
Japan Air conditioning and Refrigeration Testing Laboratory(JATL) established
July 2011
Domestic Heat-Pump Water Heater Testing facilities completed
November 2014
Room air conditioner/heat pump new testing facilities completed
ISO/IEC17025 Laboratory Certification
ISO/IEC17025 Certification
In October 2004, the JRAIA Testing Laboratory, JATL's predecessor, acquired ISO/IEC 17025 certification. In addition to the ISO/IEC 9001 review certifying a company or business establishment's quality management system, this certification may be obtained after testing specific objects and a technical review of the test results. The certification provides an international guarantee of the reliability of data that JATL provides within its accredited scope and allows for recognition of JATL's certification not only within Japan but also mutual recognition among countries worldwide.
Accreditation Number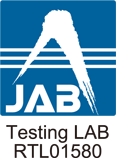 Scope of Accreditation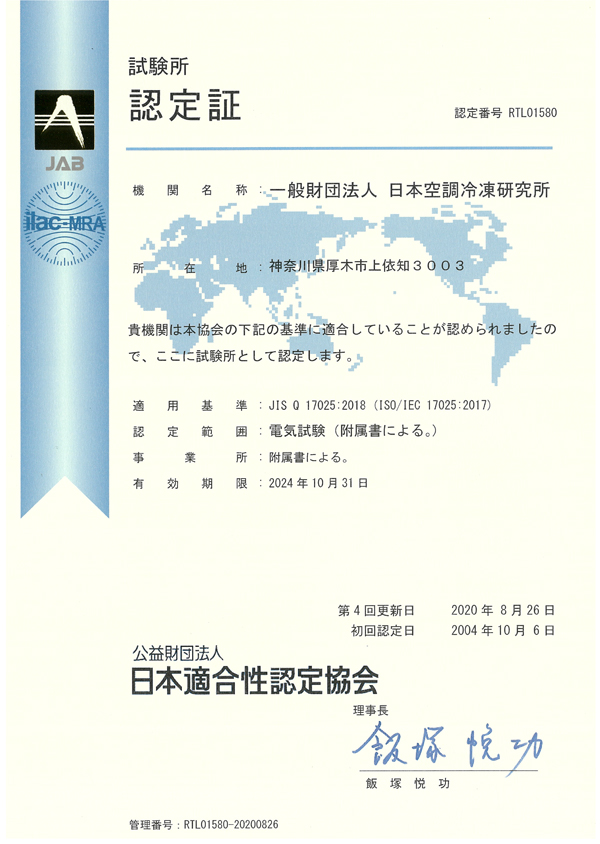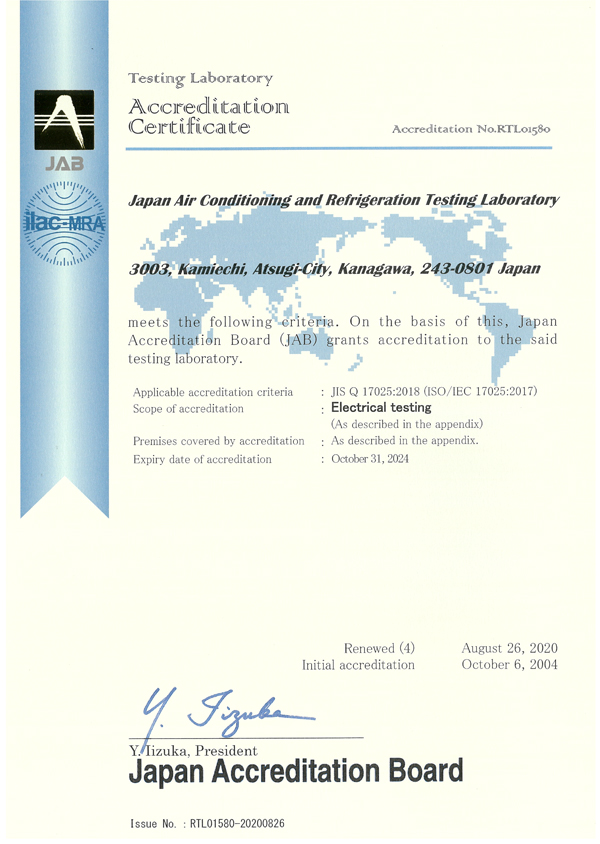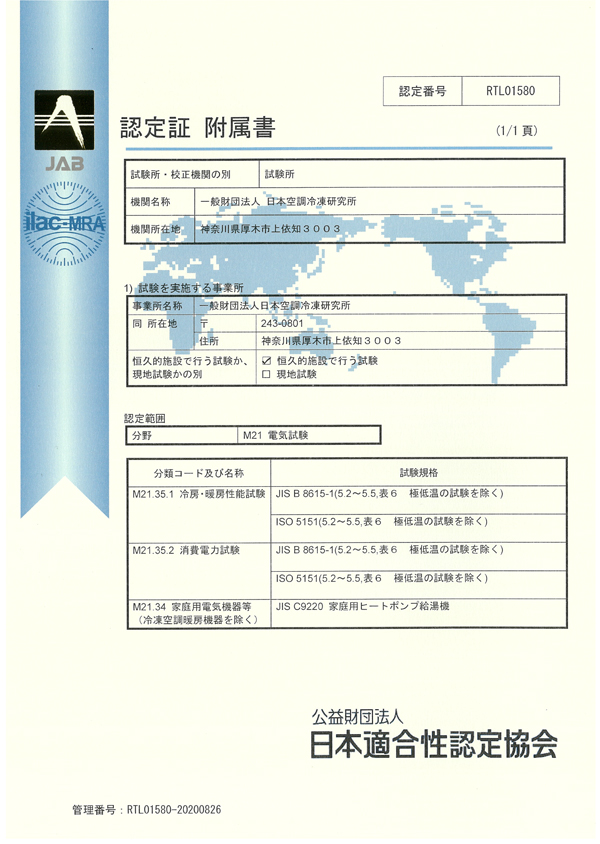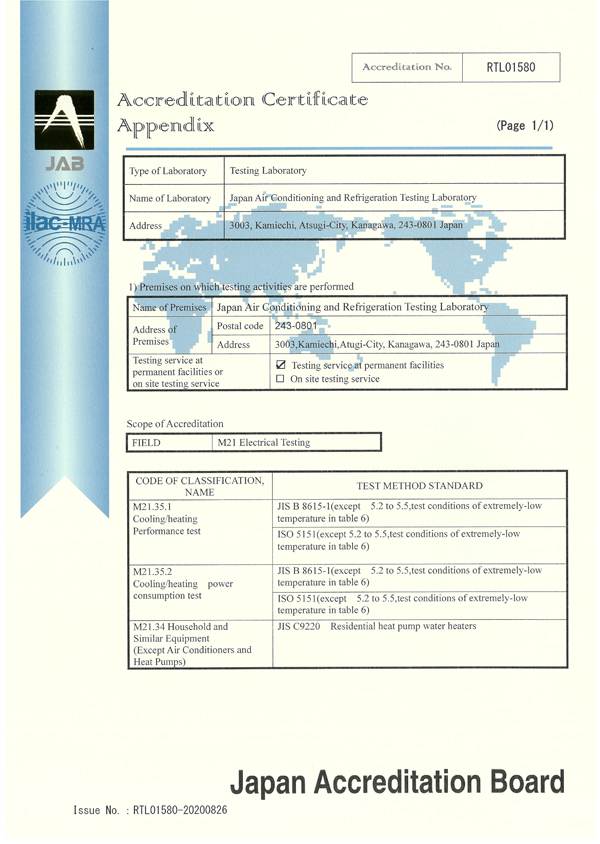 M21.35.1 Cooling/heating Performance test

JIS B 8615-1(except 5.2 to 5.5,test conditions of extremely-low temperature in table 6)
ISO 5151(except 5.2 to 5.5,test conditions of extremely-low temperature in table 6)

M21.35.2 Cooling/heating power consumption test

JIS B 8615-1(except 5.2 to 5.5,test conditions of extremely-low temperature in table 6)
ISO 5151(except 5.2 to 5.5,test conditions of extremely-low temperature in table 6)

M21.34 Household and Similar Equipment(Except Air Conditioners and Heat Pumps)

C9220 Residential heat pump water heaters